07 Meals for 07 Days – A Body Reboot Program by Sonali Malik
Sonali Malik
Surprise yourself and make your friends jealous by resetting your body in seven days, you might be wondering how, stay with me I will make you believe that it can be done in seven days without taking any supplements. All you need to follow is a healthy diet plan.
Weight loss is quite a concern among youngsters, grown ups and even the elderly. Peer pressure due to friends teasing you to lose some weight, dropping metabolic health as well as the increasing health issues in the elderly due to weight gain are some of the reasons why we need to manage weight.
Remember one thing, that everybody size is beautiful. You need not feel depressed because of your weight instead if you have a thought of losing weight stay motivated and happy. Losing weight is not as difficult as you think, if you think that is then I'm here to help you and hand hold you in your weight management journey.
Everyday reminds yourself that you are worthy of enjoying and loving yourself. You have let go of a desire to deprive yourself. When you rebuild that foundation of self-love you realize you don't deserve to put yourself through deprivation and restriction. And rest leave on me. I'll take care of your weight. Now feeling confident, wonderful!
Also Read: Is your Child a fussy eater? Consult Sonali Malik for Pediatric Nutrition.
So, be ready to experience change with my seven days meal plan. Sounds challenging, but many of the individuals like you followed my meal plan very and got positive results from it. You only need to stay consistent and follow my diet plan.
Your weight loss journey must be planned according to your needs, body type, and preferences. It is essential to design a weight loss program in a sustainable manner in order to ensure that you are not affected in the long-term.
I have designed this diet plan in such a way that it helps you lose weight while you regain your energy, vitality and confidence.
During the program, dining out or drinking alcohol is prohibited. But fear not, my body reset diet has all the smoothie, and meal recipes you need to perfect the diet plan, so you can create a fresh, healthy relationship with food.
My seven day 'completely assisted' diet plan will give you a 'kick up the bottom' boost. The results will be evident and you would feel that it's time to take the initial step towards a healthier lifestyle.
The plans both veg and non-veg consist of a healthy diet contains certain vitamins and fibers essential for staying fit but it will also help you in fighting health problems like skin issues, hair fall, metabolic health, bloating etc.
Let us understand how you can "Reset your Body" with 07 Meals for 07 Days plan. Kindly note, this is not a fad diet where you will feel impoverished and dejected. It is a 7-day plan that nourishes you with planned, portions and delicious food diets that are easy and quick to make. This routine will help your body to relieve and repair. And when you follow all that for a week, you will feel freshened, energised, brighter and healthy.
Reasons why you are becoming Overweight?
Consuming more calories than you burn: As excess calories are set aside throughout your body in the form of fat. If you decrease your food intake and consume fewer calories than you burn up, then your body will start reducing some of your fat stores.
Low metabolic rate: There are people that have a faster metabolism and thus tend to burn energy more and are leaner and people who have a slow metabolism and tend to conserve energy more and store it as fat. There are certain factors like age, gender and hormone that affects your metabolism rate. A right diet helps you keep the metabolic rate correct.
Disturbed sleeping hours : If you are waking up at night, you'll end up eating snacks to overcome late night hunger. This can result in the consumption of unnecessary calories followed by weight gain. You should sleep for a good eight hours every night, which is the optimal amount for weight control.
Read More: 7 Reasons Why Ginger Should Be a Mandatory Part of Your Diet
Here is how you will feel the difference in 07 Days with my 07 meals a day plan.
Sleep Quality: When your body gets a required amount of magnesium, protein, antioxidants and melatonin, it results in improved sleep quality.
Zero or Reduced Bloating: When you consume foods and drinks like pineapple, green tea, and ginger that are known as anti-bloating foods, would result in reduction in bloating.
Better Metabolic Rate: With the consumption of protein rich food like eggs, fish, and legumes included in the plan, it could help increase your metabolism for a few hours. They do so by demanding your body to use more energy to digest them.
Higher Energy Levels: There are certain foods included in my diet plan that are with carbs for energy, or protein for slower release of energy, these foods can help in boosting your power and stamina.
Reduced levels of Stress: With the addition of fiber rich foods like a bowl of warm oatmeal and herbal tea to your diet helps promote feelings of warmth and calmness resulting in relieving stress from the body.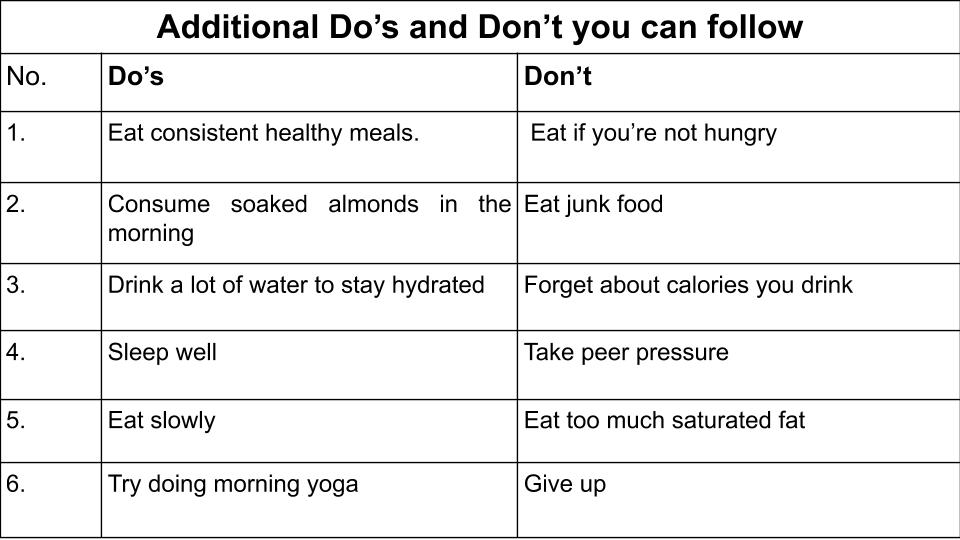 Hope you got the clue about my seven days meal plan, and started feeling motivated towards resetting your body. Without wasting much time, why don't we connect today and get the benefit in seven days. I am happy to help you in your weight loss journey. Consult today and thank me later.
Eat Right. Stay Healthy.