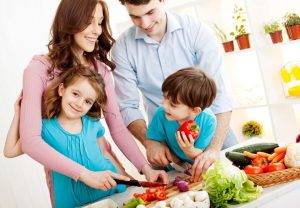 "Family health is the primary need for progress."
Daily hustlers or working moms and dads need a balanced diet, in order to balance the hectic work and life without affecting their health. Growing kids need a varied, nutrient-filled diet in order to grow, learn and thrive. Elder members have different needs – their body requires special nutrients that can promote good health and well being. There is no doubt how well-rounded nutrition plays a pivotal role in your family's health.
But at times helping the whole family stick to balanced healthy meals can be a challenge. While keeping loved ones healthy is a full-time task, I can help you fulfil this task in the healthiest way!
Every family is different and their nutritional requirement too. So, we preferably interact with the whole family or the kitchen leader to understand their unique habits – that will help determine their individual nutritional journey. Educating the family by justifying portion sizes, ensuring your family eats nutritious and whole-food meals, suggesting healthier choices and healthier alternatives to their favourite things will all be part of this program. When it comes to children, the program will allow them to experiment with new colours and textures – I have some interesting healthy suggestions to turn their mundane lunchboxes into healthy-yet-yummy treats.
My Family Nutrition Program includes family nutrition sessions and guidance along with customized meal plans, healthy recipes, nutritional tips, and more – a start-to-end offering that will help you feed your family healthy, whole foods every day.
What's included in the Family Nutrition Program:
2 hour private sessions with the entire family
Guidance on how to meet your family's specific challenges
Planned solutions to meet those challenges
Customized meal plans for elderly and children (if they are picky eaters)
Program guides you with food lists, meal planning & healthy recipes