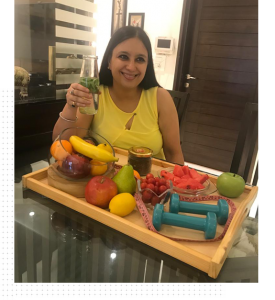 "I want to influence people to embrace the fact that food can change the way we live"
I am Sonali Malik, a nutritionist, a lifestyle diet coach and my philosophy of good health is simple – good nutrients, correct proportion and a positive outlook. If we mix those three ingredients in our daily life, we are preparing ourselves to live a healthy life.
When I say good nutrients, it need not include "only fruits" or "only salads". It's just food that is better for you than others, and the kind of food that you should consume more of as per your lifestyle and routine. It's about striking a balance – a diet that compliments your health and your body needs. Learning about that balance is most important and I want to help people strike the right balance.
I believe food has a connection with our mind, body and soul.
As a qualified clinical dietitian and nutritionist, my fascination with health and wellness go a long way. Nutrition is such a competitive science that I kept researching and learning every day. It was during my working years in the clinical environment at Fortis Hospitals and at a private clinic in New Delhi and studying patients actions and reactions, I have learned the most important things.
First learning is about people's bodies – individual's metabolism and habits are different in many ways and so a certain diet and plan may show results on some not on everyone.
My second learning is how making small lifestyle changes in our daily routine can lead to long lasting success.
With these two vital learnings almost a decade ago, I decided to start my own journey as a clinical dietitian and nutritionist.
My Inspiration
They say the only way to do great work is to love what you do and I feel that kept me moving forward. Besides my passion on this subject, I took inspiration from my Uncle, Dr. Bali, a renowned doctor who was awarded the prestigious Padmabhushan.
Listening to the moving and inspiring medical stories and gratitude that people feel towards them after a successful treatment, got me thinking and finding ways to make valuable contributions to my industry. I started out on a small scale, reaching out to friends and family.
I remember providing consultation to my friend who used to complain a lot about body pains. She was basically facing lifestyle issues leading to body aches, PCOS, thyroid etc. With a nutrition plan in place and mindful eating, she not only got rid of the body pain but went on to lose 10kg in about 3-4 months. And that's how the circle began. Within a few months, I started off with client consultation, nutrition review and custom made diet plans.
Today, my mission is to guide people with proper nutrition suited for their lives so they can conduct a successful and healthy lifestyle and live a healthy life. I want to inspire people to become the best, most healthy version they can be. And the best way to attain that is by feeding your body with good nutrients in the correct proportion and feeding your mind with positive thoughts.